Composing Worlds with Elephants: Interdisciplinary Dialogues
Composing Worlds with Elephants: Interdisciplinary Dialogues
A new, multidisciplinary volume on elephants and the human-elephant relation co-edited by Paul G. Keil.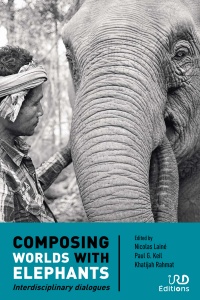 An edited volume has just been released and is co-edited by Paul G. Keil of the Department of Ecological Anthropology, along with Dr. Nicolas Lainé of IRD, France, and Khatijah Rahmat of Oxford University.
Composing Worlds with Elephants further builds upon an emerging interdisciplinary dialogue that explores the historical, social, and ecological entanglement of humans and elephants, a thousands of years old interspecies connection that is multi-dimensional, ambivalent, and always changing.
Focusing largely on elephants and peoples across Asia, the research in this volume addresses key issues in the study of their relationship including dimensions of co-existence, cultures of elephant husbandry, and animal agency. Chapters expand how elephants are conceptualized and studied. Academic texts are supported by visual contributions from three acclaimed guest artists, original visions that enrich our understanding of human-elephant worlds, as well as a foreword by Vivek Menon and afterword by Nigel Rothfels.
Composing Worlds with Elephants is of value to researchers of human-animal relations across the humanities, social and natural sciences, as well as conservationists and an engaged public interested in exploring new perspectives on humanity's connection with these charismatic giants.
The book is published by the French National Research Institute for Sustainable Development, and is also available as an open access PDF, free to download here:
Composing Worlds with Elephants - Interdisciplinary dialogues - Nicolas Lainé, Paul G. Keil, Khatijah Rahmat (EAN13 : 9782709929943) | Un éditeur pour le développement (ird.fr)